All after school activites are cancelled for today. There will be no 6 p.m. bus run.

The TMSD band program is looking for donations of band instruments in ANY condition. Please contact Mr. Swackhamer with any questions, thank you!
aswackhamer@tmsd.net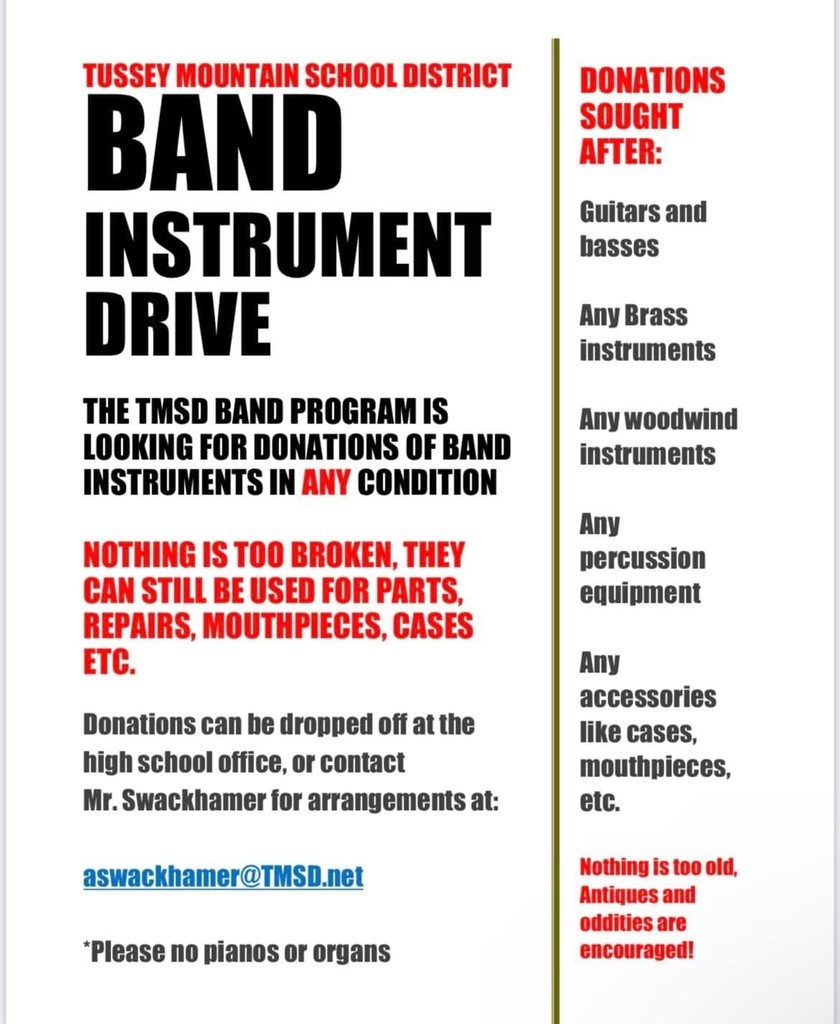 There will be no school for students this Thursday and Friday, November 10 and 11.

Parents/Guardians: The Middle and High School students were given their report cards in homeroom today. Report cards are also available to view on the community web portal.
ATTN: Coles Valley Road parents - Bus 8: Due to an accident on Joller Mountain, the bus will be re-routed today, Monday, October 31. Students may be home a few minutes later than usual this afternoon .

The last day of marking period 1 is Tuesday, October 25. There is an early dismissal scheduled for Friday, October 28. Elementary parent pickups will begin at 12:40 p.m., buses will begin dismissal at 12:50 p.m. Middle School and High School will be dismissed at 1:00 p.m. There will be NO afternoon preschool and NO vo-tech on Friday.

Due to a field trip returning late, all buses will be held 10 minutes today.

This is a reminder that tomorrow is the 7th grade Agricultural Career Fair. Students will be dismissed from homeroom and return before dismissal. Students should bring a packed lunch unless they've arranged for a school lunch to be packed for them. Students should dress for the weather, and wear Tussey Mountain colors. NO PAJAMAS.

Reminder to all parents/guardians and students: Monday, October 10, is a Professional Development day and there is no school for students.

This is an announcement for Middle and High School Families and students. According to State Law, in order for an absence to be excused, an excuse must be provided within three days of the absence. If a note is not provided within three days, it will be marked as an unlawful absence. Please check sapphire community portal for updated attendance. Our attendance policy and other policies can be found in the student/parent handbook located on our website at
www.tmsd.net
.
To clarify tomorrow's early dismissal - This includes all students, Headstart through grade 12 and all staff. There will be no vo tech, no after school activities, no 6:00 bus run and no afternoon pre k class.
We have been alerted that the Saxton Borough plans to do water line repairs tomorrow, September 7. During this time, water to the middle/high school will be cut off or heavily restricted. We will dismiss all students at 1:00 tomorrow due to lack of water/water pressure.

Attention Families, Since the start of the school we are noting very high rates of infection and transmission of COVID-19. Our schools remain open for face-to-face instruction but we are exercising caution at our schools through increased cleaning. We encourage you and your family to exercise caution as well. Please do not send your student to school, if they are exhibiting symptoms of COVID-19 and review current guidance from the Department of Health and Centers for Disease Control.

The 2022-2023 school year student schedules are available on the Sapphire Community Web Portal. All student have access to the web portal to view their schedule. Students will have 10 school days starting on the first day of school to inquire about any errors on their schedule.

Attention parents/guardians: The Child Nutrition waivers implemented by the federal government during the COVID-19 pandemic have expired. As a result, meals will no longer be free to all families in the school district. Free and Reduced price meal applications MUST BE COMPLETED in order to qualify for such meals. Applications are available on the school website. (
www.tmsd.net
) Please click the Menu option and the Food Services link to access the application as well as instructions. The cost to purchase meals for the 2022-2023 school year will be $1.25 for breakfast and $2.40 for lunch. If you have any questions, please contact the school district.

Reminder: 5th grade orientation will take place on Wednesday, August 17th at 5:30 pm. Please enter the building through the auditorium entrance.

The Tussey Mountain administrative team, in conjunction with the Football Boosters, would like to invite you to come to the Agency Fair, which will be held the evening of the Tussey Mountain Senior High Football scrimmage and Meet the Titans on August 18, 2022. This event will host and highlight many sports, clubs, and agencies which will provide everyone a chance to see what services and resources are available within our local community. The field will be open from 3:30 pm until the end of the game. Please come out and see what resources are available to students and residents of Tussey Mountain School District.
Any student in grades 9-12 wanting to join the golf team this fall, please contact Mr. Horsh ASAP at
thorsh@tmsd.net
. Any student in grades 7-12 wishing to join the marching band this fall please contact Mr. Swackhamer ASAP at
aswackhamer@tmsd.net

A reminder to ALL Seniors (Class of 2023) Senior Photos are scheduled with Provine on Wednesday, August 3rd & Thursday, August 4th at Tussey Mountain High School. ALL Girls should report to TMHS at their scheduled time on Wednesday, August 3rd & ALL Boys should report to TMHS at their scheduled time on Thursday, August 4th. If you did not receive a letter with your scheduled time from Provine, call the high school office at (814) 635-2975 and your scheduled time will be given to you. Thank you.

MEET THE TEACHER NIGHT 2022-2023 Tussey Mountain Elementary School will be holding "Meet the Teacher Night" on August 16, 2022. "Meet the Teacher Night" is an opportunity for families to see their child's classroom for the upcoming school year and for parents and students to meet the classroom teachers. Teachers will be providing information about the upcoming school year and parents will have the opportunity to talk to the teachers. The schedule for "Meet the Teacher Night" will be as follows: Tuesday August 16, 2022 Kindergarten 5:30-6:30 Grade One and Grade Two 6:00-7:00 Grade Three and Grade Four 6:30-7:30 Learning Support, Itinerants 6:00-7:00