Junior High Formal - Sponsored by TMHS Class of 2024 Friday, May 21, 2021 7:00PM-9:00PM District Office Parking Lot $5 per person / $8 per couple Tickets will be on sale during lunch on May 17, 18, and 19. Grades 7, 8, and 9 only. Students from Tussey only. NO EXCEPTIONS. Rain Date: Saturday, May 22, 2021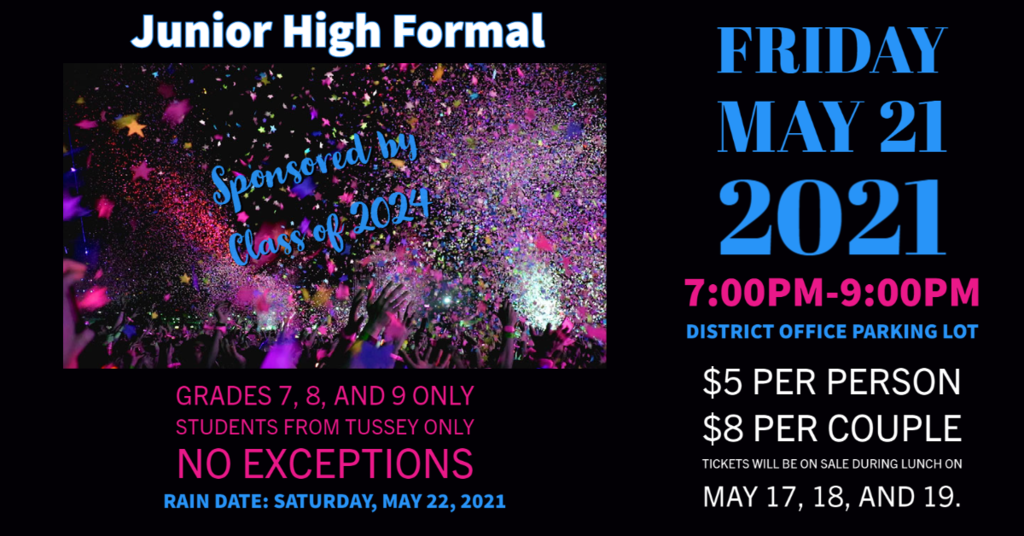 Spring Pictures for Pre-School and students in 5th and 6th grades have been rescheduled for Friday, April 16th.

Tussey Mountain will be open to spectators for spring sports: Keeping spring sports open to spectators will depend on the cooperation of those in attendance. Pennsylvania Department of Health guidelines require spectators to wear face coverings and maintain social distancing during events. Tussey Mountain, along with other member Inter-County Conference schools, will permit spectators this spring. All parents and fans should wear masks and be 6' apart, unless they are with immediate family. Spectators attending Track and Field meets should remain seated when seating is available. To keep our athletes safe, standing along the fence of the track is not permitted. Thank you in advance for your cooperation.

Due to increased COVID activity, the Middle School/High School will be closed next week for disinfection and deep clean. Students in grades 5 through 12 will be virtual all next week and will return to face-to-face instruction on Monday, March 29.

Attendance for Middle / High School Effective 11-18-20: Even during times of virtual instruction, we are required to keep accurate attendance records. In accordance with guidance from the Pennsylvania Department of Education, attendance collection will be a two-fold process in which 1) students are expected to complete a daily attendance form (sent directly to their TMSD email each day) AND 2) keep up to date will all assigned work. This attendance form must be completed by the student by 11:00 AM each day. In addition to collecting daily student attendance reports, TMSD teachers will be monitoring completion of assignments and reporting concerns to district administration weekly. Failure to show consistent engagement and participation during virtual learning may result in a referral to the truancy officer.

District 5 Football Championship Game: Northern Bedford County vs. Tussey Mountain, Friday, October 30, 2020 at 7:00. Hollidaysburg High School (Tiger Stadium, Union St. Hollidaysburg, PA). All tickets must be pre-purchased and are $6 (no student prices). There will be NO tickets sold the night of the game. Each participant (football, band, cheer) will be given 6 vouchers on Monday, October 26th. Voucher money and unsold vouchers must be returned on Wednesday, October 28th by noon. All unsold tickets will then go on sale to the public (4 tickets maximum) at the Tussey Mountain Football Stadium ticket booth on Wednesday evening at 6:00 PM until all tickets are sold.

Friday October 23rd is an early dismissal day for the Tussey Mountain School District. Dismissal at the elementary school will begin at 12:45pm for parent pickups and 12:50pm for students on buses. High school students will be dismissed at 1:00pm.

Tonight's Junior High Football game with Southern Huntingdon is canceled.

Reminder: Middle School/High School students who are in non-compliance with the district's mask wearing policy will receive disciplinary action beginning with a warning and could lead to being sent home.

Reminder: Wednesday, September 23 is picture day at the middle school, high school and pre-school. Online students should go to titan-media.net for their schedule for picture times.


Any student who still has a chrome book that was handed out in March MUST return that chrome book before being issued a new one. If you are returning to school on Monday, August 24th, you may bring the chrome book with you.

The open house for the incoming 5th grade class will be held at the Tussey Mountain High School auditorium on Tuesday, August 11th. If your last name starts with A through M, please arrive by 5:00 pm. If your last name starts with N through Z, please arrive by 6:00 pm. We ask that only a parent or guardian accompany their child in order to reduce the number of people at one time in the auditorium, classrooms and halls. Please wear a face covering in areas where social distancing is not possible. Please enter through the auditorium doors.

If you did not pick up your locker belongings at the high school during the scheduled time in May, you can still come get your belongings. Our summer hours are Monday through Thursday from 6:00 to 4:00. If items are not picked up by July 1st, they will be donated to charity.

The schedule for locker clean out for grades 5 through 11 is available on the TMSD website. To find the date and time for each grade level, go to the District home page and click on "Locker Clean Out Schedule".

The school counselors will be available to answer any questions or concerns via email. Please check the school website for an additional message from the Guidance Department. For any immediate mental health concerns, please contact Bedford County Crisis at 866-611-6467.

The spring formal for grades 7 through 12 that was scheduled for Saturday, April 4 has been cancelled. The Pride Team thanks you for your understanding and hopes you are staying healthy.

The safety/lockdown drill at the Middle School/High School has concluded.

Tomorrow, November 26, the Middle School and High School will be conducting a lockdown drill. There will be no threat in the building at any time during the drill. The drill is for learning and practice purposes only. See detailed information on the district website.


Vision screenings will be done for all MS and HS students tomorrow, October 21. Please bring/wear your glasses.

Red Ribbon Week TMHS & Middle School October 21-25 Monday - Pajama Day Tuesday - Camouflage Day Wednesday - Wild West Day Thursday - Neon & Sunglasses Day Friday - Jersey or Red/Black Day

Red Ribbon Week October 21-25 Monday - Pajama Day Tuesday - Camouflage Day Wednesday - Wild West Day Thursday - Neon & Sunglasses Day Friday - Jersey or Red/Black Day

Reminder that tomorrow, Friday, October 11th, is the 7th Grade Agribusiness Career Fair for students who have already turned in permission slips. Students should dress for the weather and pack their own lunches unless otherwise indicated on their permission slip. Please note that we will not have access to a cooler to store lunches. Buses will leave at 8:15 and return by 2:45.

5th and 6th grade Powerhouse Subs fundraiser is due tomorrow, October 4th. No orders will be accepted after tomorrow.

Tomorrow, Oct 2 is Picture Day for the following students: PreK, 5th through 11th, TM Online, and any Senior who hasn't had their photograph taken by Provine. No purchase necessary but all students will get pictures taken.

The PTO has 2018-2019 elementary yearbooks for sale. They are $15. If you would like one, please contact a PTO member or your homeroom teacher.

Reminder: Grade 5 Open House is tomorrow, Tuesday, August 13 at 6:00 P.M. in the auditorium.

Grade 5 Open House @ TM Middle/Senior High School will be held on Tuesday August 13th at 6 PM. Please meet in the auditorium/cafeteria area.

Attention Parents of 6th, 7th and 8th Grade Students: Many of you have received invitations for the academic awards ceremony for your child. The correct date and time for that ceremony is May 29th at 6:00 p.m. Please make note as the grade levels and date on your mailing might be incorrect.

5th Grade Track and Field make up day is Monday, May 20th.

5th grade track and field is postponed for Monday, May 13th. A make up day will be decided on soon.

The 5th and 6th grade Spring Dance is Friday, March 22, 2019 from 7:00 to 9:00 P.M. The dance is free of charge!

The PTO Fundraiser delivery is March 13th at the elementary school gym. The PTO requests help from parents who belong to the PTO or parents who have clearances to help. Sorting begins at 1:00 and pick up is from 3:15 to 5:15.

The Book Fair will be set up in the high school library for all students at the high school on March 13th and 14th during school hours.

Six Mile Run Bible Club has been cancelled for today, Wednesday 2/6/2019.

Reminder: The PTO fundraiser pick-up will be Tuesday at the Saxton Fire Company from 3:00-5:00 pm.

PTO Fundraisers are due on Friday the 26th.

The Junior High Football game scheduled for this evening has been postponed until Monday, October 22. The JV Football game that was scheduled for October 22 has been cancelled.

Don't forget that tomorrow October 4 is Picture Day!

Next week is Spirit Week at the middle/high school! Monday is Jersey Day, Tuesday is Twin Day, Wednesday is Tourist Day (vacation attire), Thursday is Dress up day (it's picture day) and Friday is red and black or pink day. All outfits must follow the dress code.